Breast lift
Other terms : Mastopexy
Over time with aging, breast and nipples can drop and change position . Breast lift will regive the nipples the ideal position within the chest and the best shape to the breast.
It can be carried out alone or associated with an augmentation or reduction
A breast lift — also known as mastopexy — is a surgical procedure performed by a plastic surgeon to change the shape of your breasts. During a breast lift, excess skin is removed and breast tissue is reshaped to raise the breasts.
You might choose to have a breast lift if your breasts sag or your nipples point downward. A breast lift might also boost your self-image and self-confidence.
A breast lift won't significantly change the size of your breasts. However, a breast lift can be done in combination with breast augmentation or breast reduction.
Why do breast sag?
As you get older, your breasts change — losing elasticity and firmness. There are many causes for these kinds of breast changes, including:
During pregnancy, the ligaments that support your breasts might stretch as your breasts get fuller and heavier. This stretching might contribute to sagging breasts after pregnancy — whether or not you breast-feed your baby.
Weight fluctuations.Changes in your weight can cause your breast skin to stretch and lose elasticity.
Over time, gravity causes ligaments in the breasts to stretch and sag.
How is it fixed?
To give a nice shape to the breast you surgeon will have either to do a lift only if the volume of the breast is adequate or associate an augmentation with the lift that will be then called augmentation-mastopexy , or associated to a reduction of volume the breast and then called reduction mastopexy, or commonly breast reduction.
incisions and then scar will be mainly 3 types depending o the level of lift needed and excess of skin availble:
Peri areolar or circumareolar or donut
Key hole or periareolar and vertical scar or lollipop
T shaped scar or anchor
The size of the areolae can also be reduced during the procedure to keep them in proportion to the newly shaped breasts.
Although breast-feeding is usually possible after a breast lift — since the nipples aren't separated from the underlying breast tissue — some women might have difficulty producing enough milk.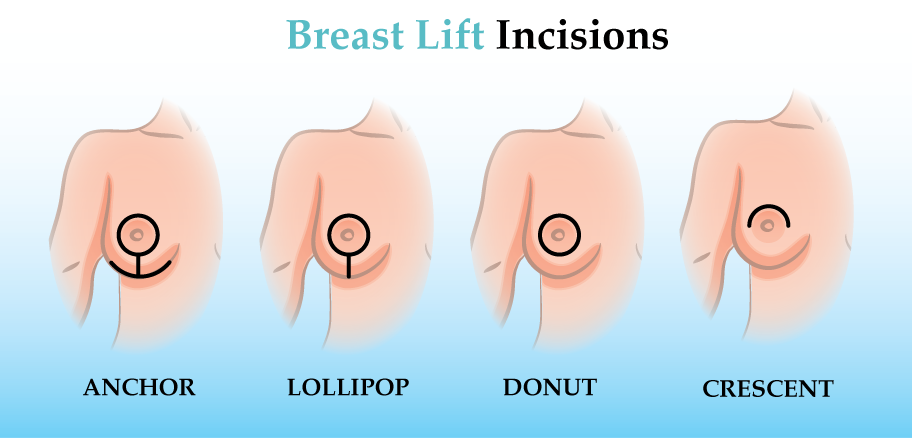 Risks
A breast lift poses various risks, including:
While scars are permanent, they'll soften and fade within one to two years. Scars from a breast lift can usually be hidden by bras and bathing suits. Rarely, poor healing can cause scars to become thick and wide.
Changes in nipple or breast sensation.While sensation typically returns within several weeks, some loss of feeling might be permanent. Erotic sensation typically isn't affected.
Irregularities or asymmetry in the shape and size of the breasts.This could occur as a result of changes during the healing process. Also, surgery might not successfully correct pre-existing asymmetry.
Partial or total loss of the nipples or areolae.Rarely, the blood supply to the nipple or areola is interrupted during a breast lift. This can damage breast tissue in the area and lead to the partial or total loss of the nipple or areola.
Difficulty breast-feeding.While breast-feeding is usually possible after a breast lift, some women might have difficulty producing enough milk.
Like any major surgery, a breast lift poses a risk of bleeding, infection and an adverse reaction to anesthesia. It's also possible to have an allergic reaction to the surgical tape or other materials used during or after the procedure.
How you prepare
Initially, you'll talk to a plastic surgeon about a breast lift. During your first visit, your plastic surgeon will likely:
Review your medical history
Do a physical exam.
Discuss your expectations
Schedule a mammogram.
Stop smoking
Avoid certain medications.You'll likely need to avoid taking aspirin, anti-inflammatory drugs and herbal supplements, which can increase bleeding.
Arrange for help during recovery
Be at a healthy weight.
What you can expect
A breast lift can be done in a hospital or an outpatient surgical facility. Sometimes the procedure is done with sedation and local anesthesia, which numbs only part of your body. In other cases, general anesthesia — which renders you unconscious — is recommended.
After the procedure
After a breast lift, your breasts will likely be covered with gauze and a surgical support bra. Small tubes might be placed at the incision sites in your breasts to drain any excess blood or fluid.
r nipples, areolae and breast skin might last for about six weeks.
In the first few days after a breast lift, take pain medication as recommended by your doctor. Avoid straining, bending and lifting. Sleep on your back or your side to keep pressure off your breasts.
Avoid sexual activity for at least two to three weeks after the breast lift. Ask your doctor when it's OK to resume daily activities, such as washing your hair, showering or bathing.
Results
You'll notice an immediate change in the appearance of your breasts — although their shape will continue to change and settle over the next few months.